Prof. dr hab. n. med.

Przemysław Kunert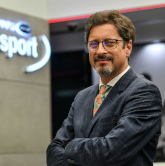 enel-sport Łazienkowska, Łazienkowska 3 street
Przemysław Kunert MD PhD is a neurosurgeon at enel-sport (Łazienkowska 3 in Warsaw).
Przemysław Kunert is a graduate of the Medical University of Warsaw. He specialises in spinal surgery, surgical treatment of syringomyelia and Chiari malformation, facial nerve anastomoses, treatment of brain aneurysms and hemangiomas, skull base surgery and hydrocephalus treatment. He also performs operations at Centrum Hospital in Warsaw.
During his medical practice, Dr Kunert completed an internship at the Department of Neurosurgery of the Clinical Hospital in Berlin (2017) – one of the largest facilities of this type in Europe. He is the Deputy Head of the Department of Neurosurgery at the Medical University of Warsaw, the Mazovian voivodship consultant in the field of neurosurgery, and the Secretary of the Polish Society of Neurosurgeons.