Sport equals health.
Health equals enel-sport.
Enel-sport provides comprehensive medical services in the field of orthopaedics. We provide care to our patients from diagnostics, through treatment (including surgery) to rehabilitation. All this in one place, under the watchful eye of the best specialists in Poland. See what additional services are also provided at our centres.
Patient satisfaction is our greatest reward.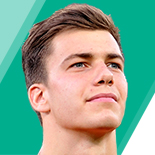 Radosław Majecki
Goalkeeper in Lega Warszawa and in Polish national youth team.
He visited enel-sport beacause of suspected knee injury during the World Championships under 20 y.o. Fortunately it turned out to be not serious injury
Jakub Kosecki
Polish football player, currently plaing in Turkey.
He visited enel-sport at spring 2019 beacause of ankle surgery.  And afterwords he had also an Rehabilitation in enel-sport.
The measure of our success is the satisfaction of our patients. Thank you for choosing enel-sport.
Doctors and physiotherapists
0
Enel-sport is staffed by exceptional specialists who, with knowledge and passion, help their patients every day.
How to prepare for the season? How to exercise to avoid injury? What to do when it hurts? Experts help you find answers to these and other questions. Check out ENEL-SPORT tips and get the latest news about our centre.