Dr n. med.

Paweł Skowronek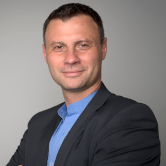 enel-sport Łazienkowska, Łazienkowska 3 street
My name is Paweł Skowronek and I specialise in sports, muscle and tendon injuries.
I am a pioneer of minimally-invasive techniques and I train others in using them. I have performed more than 4,000 such procedures and conducted more than 350 training sessions for surgeons from Europe, the Middle East, Asia, and North and South America.
I perform the following procedures at enel-sport:
arthroscopy
joint reconstruction
hip, knee and shoulder arthroplasty.
Since 2019, I am a Mazowieckie Province consultant in orthopaedics and traumatology of the musculoskeletal system.
At the same time, I am the head of the Orthopaedic and Trauma Surgery Clinic of the Provincial Polyclinic Hospital in Kielce at Jan Kochanowski University, and a coordinator of the teams of the Orthopaedics and Rehabilitation Departments at Bródno Hospital, Department of Medical Faculty of the Medical University of Warsaw.