Prof. dr hab.

JAN KRZYSZTOF PODGÓRSKI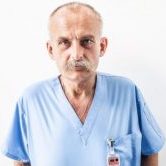 Surgical treatment of brain and skull tumours,
He has been treating patients at Centrum Hospital for many years. In 2016, he was ranked among the 10 greatest doctors in the world! He received the highest distinction of the Polish Medical Association, the "Gloria Medicinae" medal.
Professional experience
A long time researcher, member of academic staff, and Brigadier General of the Polish Army. Former director of the Military Institute of Medicine at Szaserów Street in Warsaw. Received the Officer's Cross of the Order of Polonia Restituta. Studied at top institutions in Sweden, Germany, Great Britain, Canada, the Netherlands and the USA. He contributed new cognitive and practical approaches to diagnostics and surgery, including the introduction of associative multidisciplinary cancer treatment, modifying the treatment of intracranial haemorrhage, treatment of craniocerebral trauma, diagnostic and therapeutic management of cerebral and spinal vascular malformations, and treatment of inoperable tumours of the central nervous system.
He specialises in:
surgical treatment of brain and skull tumours,
surgical treatment of cervical and lumbar spine discopathy using implants.
Just like from time to time we must take the car to the garage to check how the suspension, braking or steering system works, we should do the same with our body, says Dr Remigiusz Rzepka. See what tests are recommended for runners.