Prof. nadzw. dr hab. n. med.

Tomasz Mandat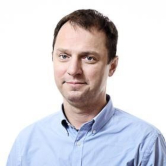 Centrum Hospital al. Solidarności 128 street, Warsaw
enel-sport Łazienkowska, Łazienkowska 3 street
Tomasz Mandat's neurosurgery career began in 1993 with individual studies at the Department of Neurosurgery at the Medical University in Łódź.
While working on his neurosurgery specialisation (1998 – 2005) he took part in numerous trainings, raising his professional qualifications (e.g. in Poland, Denmark, Germany, the USA, the Czech Republic, Greece, Luxembourg and Turkey).
After receiving the title of neurosurgeon, he completed a one-year scholarship in Canada and a one-year scientific and clinical internship in France. Currently, he is the Deputy Head of the Department of Oncology of the Nervous System at the Institute of Oncology in Warsaw, and works at the Neurosurgery Clinic of the Institute of Psychiatry and Neurology in Warsaw.