Dr n. med.

Remigiusz Rzepka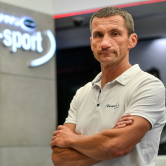 Motor training
Rehabilitation
enel-sport Łazienkowska, Łazienkowska 3 street
Remigiusz Rzepka was the physical training coach of the Polish National Football Team (2011-2018).
Specialisation:
motor training
rehabilitation
He has extensive experience in physical therapy and the functional and motor assessment of athletes, including the national teams in basketball, volleyball, futsal, football, and premier league teams. Remigiusz Rzepka attended numerous training and scientific symposia on rehabilitation issues.
He publishes in scientific periodicals and journals.
He graduated from the University of Physical Education in Katowice with a Master's degree in rehabilitation, and from the Medical University of Łódź with a Doctorate in Medical Sciences in the field of physiotherapy.