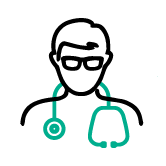 Physiotherapy
Rehabilitation
Zgrupowania AK "Kampinos" 15 street, Warsaw
My name is Paweł Kołodziejczak and I am a physiotherapist working with patients at enel-sport Galeria Młociny at ul. Zgrupowania AK "Kampinos" 15 in Warsaw.
I specialise in the following:
treatment of acute trauma patients
lower and upper limbs orthopaedic procedures
I am a graduate of the Jagiellonian University Medical College in Kraków. I have gained professional experience during numerous courses and internship programmes, including while working with cadets and German police officers.
I am fluent in English and German.