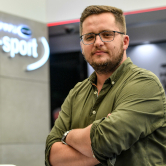 enel-sport Myśliwiecka, Myśliwiecka 4A street
My name is Marcin Tomaszewski and I am an orthopaedist at enel-sport Myśliwiecka at ul. Myśliwiecka 4A in Warsaw.
I specialise in the following:
orthopaedics and traumatology of the musculoskeletal system
hyaluronic acid and platelet-rich plasma injections
steroid injections
I am a graduate of the Medical University of Warsaw and have completed an arthroscopy training course in Andover (USA).