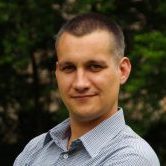 Centrum Hospital al. Solidarności 128 street, Warsaw
enel-sport Łazienkowska, Łazienkowska 3 street
My name is Marcin Błoński and I am an orthopaedist at enel-sport (Łazienkowska 3 in Warsaw).
I specialise in:
orthopaedics and trauma of the musculoskeletal system
general orthopaedics
I have comprehensive experience in the conservative and surgical treatment of patients with orthopaedic problems. Most often I perform the following procedures:
knee arthroscopy (reconstructive and repair procedures)
trauma surgery of the musculoskeletal system (fractures, ligament injuries)
treatment of bone union (pseudoarthrosis)
correction of limb length and axis
elbow joint surgery
I am a graduate of the Medical Academy in Warsaw.
I have experience working with professional athletes of the Polish Basketball Association.