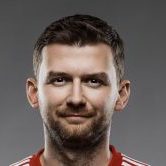 enel-sport Łazienkowska, Łazienkowska 3 street
My name is Jan Szneider and I am an orthopaedist at enel-sport (Łazienkowska 3 in Warsaw).
I specialise in:
orthopaedics and trauma of the musculoskeletal system
treating diseases and injuries of the musculoskeletal system, as well as degenerative diseases, in particular of the knee, ankle and hip
intraarticular injections with hyaluronic acid and PRP (platelet rich plasma).
I am a graduate of the Pomeranian Medical University in Szczecin.
I gained my skills through specialist courses, ESSKA – European Society of Sports Traumatology, Knee Surgery and Arthroscopy, PTOiTR – Polish Society of Orthopaedics and Traumatology. I have taken numerous courses in orthopaedics and sports medicine at home and abroad.
I have experience in working with professional athletes – since 2016 I am the licensed doctor of the Polish Football Association, authorised to provide medical services for National Football Teams, all Polish Football Association leagues and premier league teams.