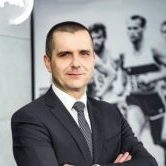 enel-sport Łazienkowska, Łazienkowska 3 street
My name is Jacek Mazek and I am an orthopaedist at enel-sport Łazienkowska at ul. Łazienkowska 3 in Warsaw.
I specialise in the following:
orthopaedics and traumatology of the musculoskeletal system
hip/knee joint
hip arthroscopy and arthroplasty
knee arthroscopy, reconstructive and repair surgery
shoulder and elbow arthroscopy
ankle arthroscopy
treatment of Achilles tendon injuries and conditions
endoscopy of the scapula and rib area (snapping scapula syndrome)
I am a graduate of the Military Medical School in Łódź. I have gained experience during specialist courses, including hip arthroscopy training – AANA in Chicago, hip and shoulder surgery training in SCOI (USA) and in Germany, and hip arthroscopy training – AANA, Chicago.