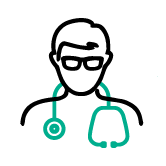 Zgrupowania AK "Kampinos" 15 street, Warsaw
My name is Bartłomiej Drozd and I am a physiotherapist working with patients at enel-sport Galeria Młociny at ul. Zgrupowania AK "Kampinos" 15 in Warsaw.
I specialise in the following:
orthopaedic dysfunction rehabilitation
treatment of acute and chronic pain of the spine and peripheral joints, in particular the knee and shoulder
I am a graduate of the Medical University of Warsaw.