Prof. dr hab. n. med.

Marek Postuła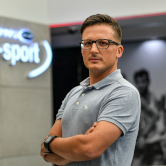 enel-sport Łazienkowska, Łazienkowska 3 street
My name is Marek Postuła and I am a cardiologist at enel-sport Łazienkowska at ul. Łazienkowska 3 in Warsaw.
I specialise in problems and diagnostic procedures related to the following:
hypertension
ischemic heart disease
heart failure
arrhythmias
I am a graduate of the Medical University of Warsaw. During my studies, I was a Fulbright Foundation scholar at the Penn State College of Medicine, the Milton S. Hershey Medical Center in Pennsylvania (USA). I have completed a number of internship programmes abroad, including in Catanzaro (Italy), Kiel (Germany), Istanbul (Turkey) and Trondheim (Norway). I am a winner of the Scientific Award of the Minister of Health.
Apart from clinical work, my passion is scientific work which allows me to explore completely new mechanisms affecting our health. My interests are focused on researching the genetic background of diseases and the way our bodies respond to medicines. In addition, together with my team, I am involved in researching new biomarkers of diseases in order to detect them earlier and treat them more effectively. I also cooperate with clinical and research centres in Poland, the USA, Japan, Austria, Italy and the Netherlands.
I am an active cyclist and due to my interest in the impact of physical activity on our health, I have also been working in the field of sports cardiology for several years now and have been helping active people to safely pursue their passion.