Dr n. med.

Maciej Karaczun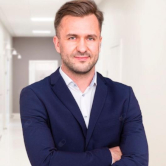 enel-sport Łazienkowska, Łazienkowska 3 street
My name is Maciej Karaczun and I am an orthopaedist at enel-sport (Łazienkowska 3 in Warsaw).
I specialise in:
orthopaedics and trauma of the musculoskeletal system
sports medicine:
igament injuries
degeneration of the joints
knee pain
injurie
bow-leggedness
tendon and muscle injuries
articular cartilage diseases
meniscus damage
knee instability
ankle instability
I am a graduate of the Pomeranian Medical University in Szczecin. I gained professional experience during specialist internships, such as at the Orthopaedics Department at St Mary's Hospital in New Port, UK.
I have experience in working with professional athletes – KPS Chemik Police (Polish Champions from 2014 to 2018), KPS Stocznia Szczecin, Ironman SC Szczecin, and work with Polish representatives of various sports disciplines.
I speak Polish and English.