Prof. dr hab. n. med.

Jarosław Czubak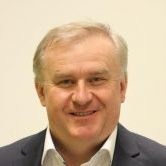 Centrum Hospital al. Solidarności 128 street, Warsaw
I specialise in the following:
orthopaedics and traumatology, including in particular hip joint conditions
A graduate of the Karol Marcinkowski University of Medical Sciences in Poznań. Associate Professor at the Centre of Postgraduate Medical Education in Warsaw, M.D., Ph.D.
In Szpital Centrum, Professor Jarosław Czubak performs hip arthroplasty procedures.